Today I'm blogging, on the road, from Thompsonville, Illinois, population 600 (at least according to the sign as you come into "town"). Believe it or not, this little town hosts an amazing Christian TV network that reaches every inhabited continent on this earth. Yes, 3 Angels Broadcasting Network (3ABN) is what I'm referring to and what brings me to this part of the midwest. I've been invited to present on the cooking show for their flagship program 3ABN Today and it's been quite an adventure and learning experience being here for filming.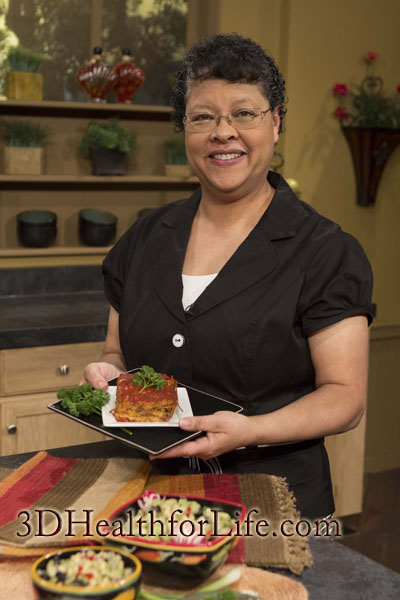 My first invitation to participate with them involved filming several programs at the end of last year (more about them later) and now I'm back to do a few more! They film for the Spanish language network, 3ABN Latino, here as well and so I've found myself doing programs in both languages with the goal of encouraging healthy eating choices and showing how to prepare plant-based dishes that are simple but tasty.
Having never presented for TV before, it has certainly been both interesting and fun! Here are some of the things I have learned:
Three of the most important things to do are organize, organize, and organize some more! It's a good thing I like to work off lists!
The quality of your helper(s) will make or break your ability to focus on the task of demonstrating the preparation of your food. I am so thankful for an excellent assistant in the kitchen and on the set that is able to keep things prepared ahead, keeps the dishes washed, the food organized, sets up trays for each dish, and has an eye for beauty.
Use a spreadsheet to organize your shopping list – it can get cumbersome to keep track of how many tomatoes or onions you need to buy for the 11 different recipes you plan to prepare when you need to make 2 or 3 batches of each recipe. It's also very inconvenient to run out of things like salt or oil because you didn't realize it would take more than a box of salt or medium bottle of oil to prepare all the food needed for a particular show.
Makeup artists are just that – Artists, with a capital A. Had my face airbrushed for the first time in my life today! My artist used an air powered liquid makeup nozzle that makes your face feel cool under the light breeze it creates and really does the job right. I must say that 3ABN has some real experts in this department and I so appreciate their skill.
I'd like to share with you one of the recipes that was a real hit with the crew (yes, they get to eat the goods when they finish filming the program – what a perk!) on my first visit here last December. It was a simple, healthy dessert called Fruity Chews.
1 c. dried apricots
1 c. dried pears
1 c. dates, pitted
1 c. raisins
½ c. raw walnuts, almonds, or other nut
¼ c. macaroon coconut
sprinkle of salt
Grind the dried fruits and nuts together through a food processor or meat grinder. Mix in the salt by hand. Shape into cherry-sized balls or little logs and roll in the coconut. Store in a covered container in the refrigerator until served.
Note: any combination of dried fruits may be used.